Saltwater Fly Fishing Lessons
If you have been waiting for your opportunity to learn how to fly fish in saltwater, here it is! Our classes are designed for all levels of experience. The half day trips include wade fishing shallow flats near Cape Charles and casting from a skiff across intertidal creeks.  We will outfit you with everything you need for your day of fly fishing including fly rods, reels, leaders and flies. Depending on the season, you will have the opportunity to catch speckled trout, redfish, stripped bass or flounder.  
Half day per angler (4 hours)- $125
Seaside Fly-Fishing Trips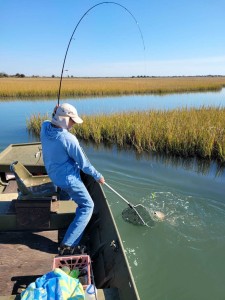 Our full day trips offer guests the opportunity to explore remote tidal creeks, bays and inlets in search of gamefish.  These trips will be planned with guests depending upon interests and goals.  Timing depends on the season, tides and target species.  Contact us to plan your personalized saltwater fly-fishing adventure.  Rods and tackle can be provided.
Full Day per boat (6 hours)- $300
Price applies for one or two anglers