Roanoke River 5-day Kayak Tour
Trip Log, Virginia Coast Ecotour trip down the Roanoke River, March 12 – 17th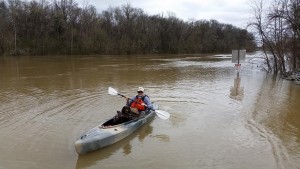 Accompanied by my intrepid water spaniel Blue, I launched in early afternoon at Weldon, NC on March 12th to begin a 120 mile solo, unsupported kayak trip down the Roanoke River.   The river was high with spring runoff, boiling over submerged rocks, and we made good time, cruising past overhanging tree branches still bare of leaves but ripe with buds, their trunks buried in several feet flowing river water.  After 15 miles, we reached our first planned stop a half hour before dark, a screened camping platform maintained by the Roanoke River Partners (RRP).
We broke camp early and repacked our kayak, learning ways to fit gear better into the dry bags stowed under the fore and aft decks.  At 1430 we pulled into a small creek with a grassy bank for lunch, and then started down the river again.  At 1500 rain hit, heavy at times, but with light winds and no lightning.  We paddled through – the continuous paddling kept me warm even though I was soaking wet.  Just before dark I found a campsite on state gamelands…very low and wet ground outside, but inside the tent we were dry and warm.  At 1900 another rainstorm hit, this time with heavy thunder.  I listened to the storm until it eased up, surveyed out gear to make sure we would not be flooded out, and then slept until dawn.  We started again at 1000, with only 16 miles to travel and the river flowing at nearly 4 mph, we reached our next campsite by early afternoon – another RRP facility with a 16×16 screened shelter and large attached deck.  What an awesome delight to be able to hang out all the gear still wet from the storm to dry in the spring breeze.  Rains were heavy again at night, but we were warm and dry in the shelter.
On the morning of day 4 the sky was still overcast and I decided to wear waders and my gortex jacket as insurance against another rain storm.  We made good time with the strong current and in the afternoon the banks of the river turned into swamps, with current actually flowing into the forest.  The river made wide "s" curve bends, and as it turned back on its direction to flow the opposite way, water flowed out of the swamps and created strong back eddies.  I had to paddle harder than I wanted to, and I made the next camping platform at 1800…just a dark.  I had paddled 34 miles this day.
We took a leisurely stroll through town the next morning, and stopped to talk with local fellows on the front porch of a small bait and tackle store.  As I repacked gear again, I separated out a small bag of gear I had packed but not used…a camera, marine radio, pots for cooking.  In the evening the weather was beautiful, the temperature must have been near 80 degrees.  I used the hammock for the first time…what a delightful way to relax.  Like the waders, the hammock was worth packing and carrying for six days just to use once.  The river became wider a slower each day.  On the final day, as we approached Plymouth, the weather turned cool again and the sky was overcast and the wind came up.  I paddled the final day straight into a headwind, and I the kayak felt as though it was pushing into the current, not running with it.  I had to paddle hard for several hours straight until I slowly came around the final bend and saw the boardwalk along the river…I had arrived at the town of Plymouth, 120 miles from my starting point.