Trip Log – Circumnavigation of Fisherman Island – April 2016
Launched from Wildlife Refuge boat ramp at 1030, and paddled southwest down the intra coastal waterway toward Wise Point.  With a good outgoing tidal current I reached the southern tip of Raccoon Island in a ten minutes.  A mild breeze was coming the south, the surface of Fisherman Inlet was nearly flat, no waves.  I began paddling southeast across the bay toward Smith Island Inlet, keeping close in the channel along Fisherman Island.  Now and then I stopped to cast a jig, looking for flounder.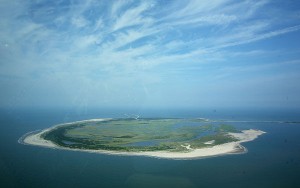 The tidal current carried me south around the shoreline of the Island.  A school of porpoises was also swimming with the tide in the channel and I adjusted my speed to stay even – sometimes they swam beside me, other times they were in front, and sometimes as close as five yards, but never more than 50 yards away.
As I turned the corner of the Island to head due south, wind was pushing the sea over the shallow sandbars and I moved further from shore to work around heavier breaking waves.  Individual porpoises jumped and twisted to one side, coming clear out of the water in front of the breaking waves.
After I paddled west with the wind on my left shoulder, the waves in the deeper channel were manageable, one to two feet in long swells, and the current was still favorable, helping me forward. I made good progress parallel to the shoreline, perhaps fifty yards from the edge of the sand beach.   The four porpoises continued to swim beside me and sometimes in front.  Time and again the one fellow continued to make a show, jumping clear out of the water.  The feeling of paddling in the open water on a cool, sunny spring day with a fresh breeze and a helping tidal current was nothing short of exhilarating.
As I rounded the western corner of the Island and began to turn north I had the high rise of the Bay Bridge Tunnel in front of me.  The surf again was heavy again as the wind pushed the sea over the shallows and I had to swing out wider away from shore.  At times I had to point directly into the waves and paddle hard…I was in a cockpit kayak, and if I met a breaking wave facing broadside, the churning water could easily fill the cockpit and swamp the boat.  Low tide had arrived now and the current was slack, but I had the south wind now at my back, helping push me north toward the Bay Bridge.  I paused again underneath the Bridge to cast a jig around the piers.
After the bridge, the current of the incoming tide began to pick up.  By the time I reached Wise Point, the current was strong enough to keep me moving when I was not paddling. I followed the shoreline up the intra coastal waterway, returning to my starting point, the Wise Point Boat Ramp.  With the right tides and a favorable wind, a paddle around Fisherman Island is about a 4 hours, and can be a memorable day.  The trip does require some skill to navigate areas of heavier breaking waves, and also confidence as a swimmer and definitely a life vest and safety gear.  However, I doubt the surf is any heavier than Virginia Beach on a day with a gentle breeze.  Remember that landing anywhere on Fisherman Island is prohibited.  The Island is a federal wildlife refuge.  (photo is from Virginia Pilot photo library)